Sizing And Shipping
SIZING:
TrendSettingFashions has worked very hard to locate the best and highest quality clothing, shoes, belts, watches, sunglasses and accessories available all made to extremely high standards.  However, since most of our Items are sourced from all over the world the sizing can be different than UK or US sizing so please be sure to follow the sizing charts we provide on each item!  We also recommend to add 2-3 cm of deviation which is what most retailers in the U.S. and globally typically recommend as well.
Here are a few charts for you to review:
 WOMEN:
SHOES: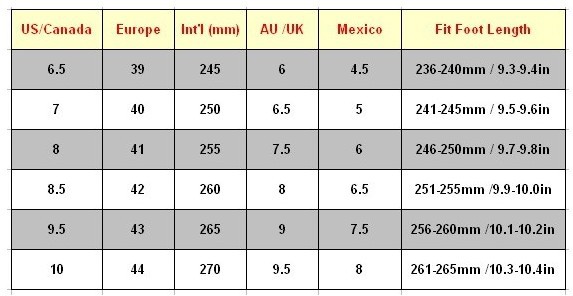 SHIPPING:
TrendSettingFashions is proud to offer free shipping on ALL orders globally and there is no minimum order to qualify for free shipping!  TrendSettingFashions will make sure to get your order processed right away. After your order has been shipped you will get another confirmation e-mail along with your tracking number.  Typically our customers see anywhere between 10-30 business days for their items to arrive.  Most of our clients do receive their items within 2 weeks or less!  However, in very rare cases your item can take longer than 30 days if held up in customs or there is a mail delay, so please be aware of this delivery time prior to ordering and please be patient and wait for your order to arrive. Our reputation is very important to us and we will always make sure you receive your items!! Don't forget we even have a delivery guarantee on all orders, which will be verified with your tracking number through the post office!
Also, please do not be concerned if you receive 1 item out of 2 or 3 you ordered.  That is totally normal!  We send out items as soon as we receive them so in most cases items are shipped separately, but please rest assured you will receive all of your items!!!
You can go to this site to track your order:  https://www.17track.net/en/
If you have questions e-mail us:  customersupport@trendsettingfashions.com